The green drab / Ophiusa tirhaca
Description
Instruction
1,00 EUR/lure; 0,90 EUR/trap
Description
The green drab / Ophiusa tirhaca
Flight time is from May to October. The range extends across southern Europe, Asia, the Middle East, Hindustan, Taiwan, Africa, and Australia.
The caterpillars feed on plants such as pistachio, pomegranate, turpentine tree, skumpia tannica, sumac, frankincense, eucalyptus, Osiris, viburnum and pelargonium.
There are three overlapping generations per year. The larvae cause severe damage to leaves of young pistachio trees; they are difficult to detect during the day, being closely attached to the branches and resembling them in shape and colour.
The larvae is feeding on a variety of broad leaf trees and shrubs.
Oviposition takes place singly on the trunks and older stems of the plants. The young larvae search for soft, young shoots where they feed on the youngest leaves.
Instruction
Proper use of Pheromone Traps:
The pheromone trap is designed to monitor and reduce pest numbers. In order to determine the population density of pest insects and to identify pest outbreaks (monitoring), it is recommended to use 1 trap per 1 ha.
The trap should be placed in the crown of the tree at a height of 1.5-2 m. Prior to the first flight of the butterflies, the traps must be checked on a daily basis, and after the first butterflies have been captured, the traps must be checked every 5-7 days. Pheromone dispensers and adhesive tapes can be replaced as needed. Protective measures are based on the results of the monitoring of population density of pest insects.
Trap placement:
For mass capture and sterilization of males, it is recommended to have more than 20 traps per hectare. In case of a large number of pest insects use 30 traps per 1 ha.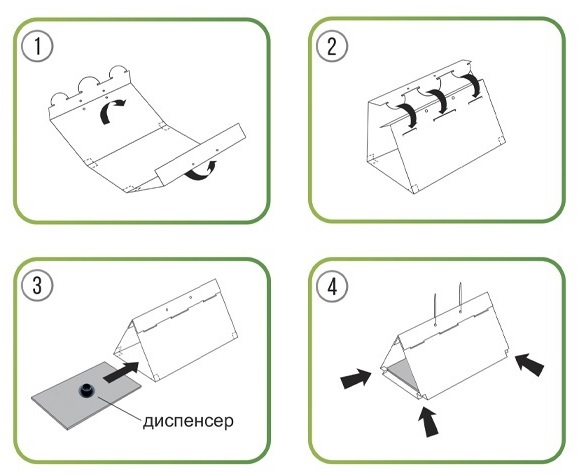 1,00 EUR/lure; 0,90 EUR/trap